What is meant by the term Phobia?
A phobia is a sort of anxiety which an individual has a fear of a person, object or situations that many people take for granted. A person with a phobia maybe comes paranoid and will sidestep the topic of the fear whenever possible.
What are the main groups of phobias?
Individuals with various forms of phobias often realise their worry is irrational and that no actual threat of danger is immanent, however most people require help in order to conquer their personal phobia.
There are two main group types of phobias:
Every type of phobia can range in severity – from moderate to an extreme debilitating disorder. The sooner a phobia develops and the longer you wait to treat the phobia, the extra hard it becomes to get over it. Without help, an individual is often left to avoid their phobia for the rest of their life
Complex phobia
Complex phobia are general feelings of shyness in front of other people. Complex phobias contain self-recognition to the point of paralysation. Social phobias trigger from the fear that other people will judge the person in a negative way and with scrutiny. It's also known as social phobia
Some examples of complex phobias can be:
Fear of talking with many people or groups – IE meetings
Fear to enter public rooms – IE, cafes, restaurants with the fear of eating in front of others
Fear of meeting new people – in the high street or anywhere in public
Fear of social contact with others in general – IE waiting a shop queue
Complex or social phobia can be so extreme as to restrict a person's interpersonal contact in its absolute. Social phobia is often a precursor to agoraphobia, (which is another group type and I will talk about later in this unit) which can be visible as a worsening of the social phobia. If this occurs then the phobia could prevent any personal or social skills and also could prevent social contact with friends or family.
Specific phobia
A specific, or simple, phobia is the fear of one specific thing such as a object or situation.
The majority or people are more acquainted with this kind of phobia. For instance, many human beings fear spiders; if someone's fear is irrationally exaggerated enough, this might classify as a particular phobia. Individuals with particular phobias actively keep away from their fear – Mental Health First Aid Course
Some of the common types of specific phobias can be;
fear of animal – such as fear of dogs, snakes, rats or spiders etc
Natural environment – this could be the fear of heights or water
Injections – examples are the fear of pain or needles
Situational – such as the fear of flying, elevators or close space
Certain phobias mainly develop at a younger age. For example, animal phobias can start at an age of as early as seven years old. Other phobias such blood phobia could develop at the age nine and dental phobia at age twelve.
A further phobia group is agoraphobia but is generally looked at differently to the two main groups of specific and complex
People who suffer with agoraphobia live in fear of being in certain situations where help would not be at hand if things went wrong. Many people assume agoraphobia is simply a fear of large open spaces such as shopping centres, but it's a more compound condition. An individual who suffers with agoraphobia may have fear of travelling on public transport or worse case not leave their own home
Examples of specific and social phobias.
As mentioned in the last question, there are two main groups of phobias, which are specific and complex or social phobia, here are examples of each in turn
Specific phobias
Examples of specific phobias could be:
fear of animal – such as the fear of dogs, snakes, rats or spiders et
fear of birds and insects
Natural environment – this could be the fear of heights or water
Injections – examples are the fear of pain or needles
Situational – such as the fear of flying, elevators or close space
Social phobias
Examples of social phobias could be:
Meeting people
Walking down the street -Attending meetings
Public speaking
Possible causes of phobia.
Certain developments of phobias can occur during childhood and these phobias can stay with the individual for life. An example could be if you have experienced been stuck in small space areas you may suffer from claustrophobia. Another cause could be if you have been thrown in cold water or your head help under water as a child, this could lead to having a phobia and fear of water
A common cause as a child could be what's known as a learned response from a family member, this could be a family member who suffers from certain mental health problems such as anxiety, this can be picked up easily as a child and they can develop this later in life – Mental Health First Aid Course
Another factor could be a life experience caused by a traumatic of stressful experience such as a bad social experience.
Mental Health First Aid Course
Feelings an individual may have when experiencing a phobia
If a person has a phobia they may feel deep fear of something, such as a person, thing or situation. A phobia can cause an exaggerated and persistent fear which may cause an aggressive response or panic in the situation encountered.
Phobias produce two feeling, physical and psychological
The physical fears a person may feel could be things such as, hot flushes, confusion, sweating, needing the toilet or feeling faint, chest pains and nausea. The psychological feelings maybe the fear of fainting, fearing losing control and the fear of possibly dying.
How a specific phobia could prevent someone from leading a normal life
A specific phobia such as the fear of birds may prevent someone from leading a normal life, this would affect their ability to walk in the street and go further afield, it could also have an impact on their work-related duties.
World famous actress Scarlett Johansson has a phobia of birds
The actress opening up about her lifelong fear claiming "Something about wings and beaks and the flapping,"  "I'm terrified of them. That still hasn't gone away … I was terrified of the peacocks on set [of her movie We Bought a Zoo]. Like, 'Ahh, don't get too close.' They're like, mean."
This could also have a knock-on effect on her friends and family who may want to watch certain screen plays but the person with the phobia will not attend if their phobia is present.
How agoraphobia could prevent someone from leading a normal life.
Many people assume that agoraphobia is simply a fear of large open spaces such as shopping centres, but it's a more complex phobia condition. It's a fear of being in places from which they cannot easily escape or where help may not be available, especially if your suffering from a panic attack – Mental Health First Aid Course
If an individual suffers a panic attack in a certain place they may not want to go there ever again or even in similar places. Agoraphobia is often associate with the environment. An example could be, it may prevent the individual from leading their normal daily life because they will not feel save in places or surroundings such as work or public environments. This may lead to;
Financial problems
People who suffer with agoraphobia illness may not be able to work and not generate an income and then it becomes harder to find employment and employers seem to be less reluctant to consider anyone with mental health problems for employment. This in turn can lead to relationship problems and or further mental health problems.
Communications with friends, family and the general public, 
An individual suffering with agoraphobia may also have fears of travelling on public transport or worse case not leave their own home and in some cases for a very long time.
The impact of been isolated and not leaving their home can have a major effect for the individual trying to lead a normal daily life, for example, it can lead to many different things such as
physical issues, not exercising, eating or sleeping properly – this could lead to then lead to taking to recreational drugs or alcohol
phycological issues, such as panic attacks, depression or anxiety – this can trigger further mental health illnesses for the individual and been isolated could have devastating effects as no one can help them or offer support.
How a person's phobia may affect others.
Any type of phobia can have a major effects and complications to family, friends and even the general public as it can cause interpersonal and communication issues. At times, this could cause arguments and disagreements meaning frustration and anxiety going into auto pilot and as a result having limit activities that friends and families can all do together.
Families with children suffering with phobias may find it more difficult to deal with Mental Health First Aid Course
This can cause more anxiousness as the family will need to put in special measures to deal with the situations the child may experience due to their phobia.
If the individual suffering with a phobia does not express or talk about their fears to either friend, family or even help groups then they may feel even more isolated, frustrated or rejected and this could also have the same effect on family as they won't understand the situation
What can you do to self-help for phobias?
Although there is excellent treatment and help for people who suffer from phobias, there are a range of such importance in which people with a phobia can self-help.
Having researched and talked to individuals suffering with phobias one of the best and most positive way is to open up and talk to others about their fears, this will allow the person to think positively and control their thoughts. It may also assist the individual to find other options or further help which they are not aware of.
Relaxation is an effective method of self-help to different people suffering from phobias, this can be done by the individual on their own but is usually more effective in a group. It helps with many things such as breathing techniques, relaxing of body muscles and is great way to clear the mind set and have positive thinking
Graded Exposure is a way of treating a range of specific phobias. It's when the individual suffering from fear can be gradually exposed to the phobia which allows them to face their fear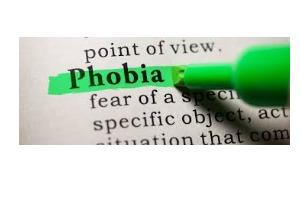 and control the situation in bite size steps.
What are possible treatments for phobias?
The treatment of complex phobias is often a longer process and involves talking to others; Examples of this possible treatment maybe:
Counselling:
A trained counsellor is a great form of treatment as they listen to the Individuals issues and problems and this in turn can help them combat their fears. This could also include Cognitive Behavioural Therapy (CBT)  This treatment helps links between the individual's thoughts and feelings. CBT treatment often includes a different range of techniques, including exposure therapy or desensitisation
Change in life style
With social phobia, the individual's personal lifestyle may affect the mindset therefore trigging levels of anxiety.
There are so many different areas where an individual can change their lifestyle to get in the right mind set, there's are;
Controlling your diet and eat health – helps control weight issues that can cause depression
Exercise at least 30 minutes a day – health body, health mind
Cut down on caffeine, sugary drinks and alcohol – these sorts of drink can aggravate anxiety
Have a regular sleep pattern – help control the metabolism
Exposure therapy:
Exposure therapy involves gradually exposing you to the object or situation you fear, in a safe and controlled way. For example, if you have a phobia of going to the dentist, you might read about the dentist, then look at a picture of a dentist's chair, sit in the waiting room and talk to the dentist, before finally sitting in the dentist's chair.
Through repeated experiences of facing your fear, you may feel an increasing sense of control over your phobia. This technique needs to be carefully managed to avoid causing distress and anxiety, so
Hypnotherapy:
Many people who have phobias find hypnotherapy helpful for relieving their symptoms. The Complementary and Natural Healthcare Council (CNHC) has a register of hypnotherapists who have trained to national standard level.
Medication:
If a phobia causes significant anxiety, the person may be offered medication. Currently, there are three classes of drugs considered useful in managing anxiety. These are:
Antidepressants:
The most commonly prescribed drugs to treat anxiety are selective serotonin reuptake inhibitor (SSRI) antidepressants. These drugs can be helpful but may cause side effects such as sleep problems and increased anxiety. If SSRIs don't work or aren't suitable, you may be offered a tricyclic antidepressant.
Beta-blockers:
Beta-blockers such as propranolol are sometimes used to treat the physical symptoms of anxiety, such as a rapid heartbeat, palpitations and tremors (shaking). However, beta-blockers are not psychiatric drugs so they don't reduce any of the psychological symptoms. They may be helpful in certain situations if you have to face a phobia, such as going on an aeroplane.
For more information on our mental health first aid course please contact us here or for our mental health done for you training package please see here