SMARTT are running free First Aid courses in Consett. The courses are part of a fully funded course though DurhamWorks.
As well as free First Aid courses, learners will also gain 6 further qualifications in just 12 days – please see here for more details on the other courses
Free First Aid Courses
Below are just a small sample that will be covered on the free First Aid Courses; but please download our FREE 104 page First Aid Manual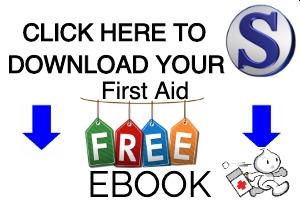 Respiratory System
How the respiratory system works?
The main aim of the respiratory system is to supply oxygen to all parts of the body; breathing is essential to life.
How we breathe in and out – When the diaphragm contracts (goes down) we breathe in, when it expands (goes up) we breathe out. Air is drawn in through the mouth and nose and goes down the trachea (windpipe). The oesophagus is behind the trachea and food and drink go down this. To stop food and drink going down the trachea there is a flap of skin called the epiglotis that prevents this from happening. From the trachea the air goes down into the bronchus and in turn the bronchus tubes (one to the right lung, one to the left lung).
From here the alveoli act as a two-way valve (membrane), air passes through the membrane into the blood and waste products from the blood are drawn into the alveoli. When we exhale, the diaphragm expands, waste products are expelled up the bronchus, the trachea and expelled through the mouth and nose.
The composition of the air that we breathe in is a mixture of:
Nitrogen (76%)
Oxygen (20%)
Other gases (4%)
Carbon dioxide (trace)
When we exhale we breathe out a mixture of:
Carbon dioxide (4%)
Nitrogen (76%)
Oxygen (16%)
Other gases (4%)
What are the 4 main functions of the respiratory system?
The 4 main functions within the respiratory are;
Breathing – (air)
Sound Production –
Olfactory Assistance – (smell)
Protection
Small Splinters
Splinters are foreign objects that embed themselves into the skin, either fully or partially. Splinter injuries are often surprisingly painful and are a common occurrence that can be caused by many
things such as:
Shards of glass
Splinters of wood
Splinters of plastic
Sliver of metal.
To find out more or book a place on our courses please contact us here
Please click here for more free resources